Jack and The Beanstalk
What goes into a creation this size? First, we have to estimate on how many balloons this sculpture would need. Normally with our Super-structures, and some of our larger balloon
decorations and decor, we have to order from a couple different suppliers as our orders are large enough to clean them out of certain colors. Then once we have the plan, it's time to start the balloon twisting itself. The bulk of this creation was built only by two balloon twisters, Alexandra and I. We worked for about 10 hours creating the stalk itself. As with what happens sometimes when making a unique structure, about 2 hours into it, we realized the design was not going to have the impact and look we wanted. So we proceeded to take everything apart and start over.
When the beanstalk itself was finished, we then created several clouds to make the cloud cover and made sure the stalk continued through the clouds, giving the illusion that it would go on forever. The final addition, was to add a balloon recreation of Jack to the beanstalk. We then attached a small PVC support to the clouds. This was the only non-balloon support in the entire sculpture and was used only to give us something to tie off to and elevate it. When it comes to raising our Super-Structures, falling is not an option. We have an agreement with Joe Mahler, who literally wrote the book on knots, several books on knots to be exact. He has assisted in raising the majority of our balloon Super-Structures, including our full size Biplane. Although he's technically not a balloon artist, his help on these creations is invaluable. With his help, we raised this two and a half story fairytale creation to the ceiling.
Looking back, magic beans would have easier, but this was much more fun.
3000 Balloon Rollercoaster
World's Largest Balloon Rollercoaster
Think you've seen balloons? We love designing our super-sculptures around the country, but it's extra special when we get to use our balloon artistry skills here in the Naples and Fort Myers area. Our latest creation just raised the bar and created the World's Largest Balloon Rollercoaster clocking in at 3000 balloons and over 110 man hours! This super-sculpture was on display all week in Fort Myers, Florida.
First Church of the Nazarene kicked off its Vacation Bible School titled "Colossal Coaster" and asked Evans Entertainment to make them something extra special, and what they got is really hard to believe.
This massive creation has over 100 feet of track, 3000 balloons, and no supports of any kind. It's 100% balloons! How do you come up with an idea like this? Well, the idea of a rollercoaster was easy, when they told us their theme, however, the planning was the hard part. We decided to design it loosely based on The Cyclone from Coney Island. The Coney Island Cyclone (better known as simply
the Cyclone) is a historic wooden roller coaster opened in 1927 in the Coney Island section of Brooklyn. It was declared a New York City landmark on July 12, 1988, and was placed on the National Register of Historic Places on June 26, 1991.
We were asked by Fox, when they came to look at it, "Why create something this large?" Creating sculptures like these are fantastic because people immediately stop, stare, and immediately bring out their cameras to capture the moment in time. Every child is fascinated by balloons, and every adult was once a child that wanted nothing more than a simple balloon creation. This brings that moment of wonder, not only in the children, but in the adults that have lost it over the years,especially with this sculpture combining two of the most iconic pieces of everyone's child hood, you can't help but smile and get that moment of astonishment."
Is the planning and time worth it on a sculpture that will not be around in two weeks? Definitely, if anything it makes it more exciting. Like an ice sculpture, what people get to experience is a unique piece of art in a moment in time. Once it's gone, it will never exist again, only through the pictures and the videos. I believe this small window creates a fantastic unforgettable experience.
Building a project of this size needed 10 to 15 people. There were four professional balloon artists involved, we had three from our company and we flew in a friend and colleague, Brian Getz, from Indianapolis to help with the design and execution. However, the big part was getting community volunteers. We had everyone from ages 12 to 65 chipping in. Some were inflating balloons, others were twisting columns and tracks, and still others were doing detail work on the sculpture.
Take a look at the video above and it shows a time lapse of the creation of the project with a photo taken every 10 seconds. Also, at the end there is a special treat! When Fox came down to document it, they took a GoPro camera and through the magic of special effects, you get to take a ride, experiencing every twist, turn, and tunnel of the full 100 feet of track on the World's Largest Balloon Rollercoaster!
Godzilla Super Sculpture
It promised to be one of our biggest and most amazing sculptures yet! The movie that is being celebrated with all this hub-bub…. Godzilla.
The monster lives…
The reason they asked us to build our Super Sculpture of Godzilla was because the two actors from the original movie
and many of the subsequent Godzilla movies were going to be there. Although there are several Godzilla conferences every year, these two being in attendance is very rare. That's why we took several months to plan this guy and put together a great team, we wanted everything to be perfect. It would have to be built in Orlando as there was no way to build this guy here in Naples and Fort Myers and then transport him. All the balloon creation had to be built on site. The project took 4 months of planning just to decide on the design. Then with the execution, we brought in some of our fellow artists for help to make sure it could be finished in only one day. So after 120 man hours and 2500 balloons, a monster was born. Sixteen feet tall, twenty-three feet long, and looking mean!
Unfortunately, we had another event and had to leave the next morning, but the following day, before we left for our Masters of Magic show in Tampa, we thought we would just stop in to say hello and check on the sculpture. Each time they had hundreds of people in line and a several hour wait. Well, we were going to walk away, when one of the staff members pointed to us and said to Akira Takarada, the star of the 1954 Godzilla, "Those guys are the ones that made that." (Our Godzilla creation had been right next to them for the convention)
Akira stopped what he was doing and had a huge smile on his face. He left the line and everyone and came up and gave us a huge bow and started telling us how much he loved it. Then he asked if it was okay if he got his picture with us! He asked someone to grab his camera out of his bag and we went in front of our creation. (Of course, we used our camera too.) He then instructed the person with his camera to take several shots from different angles.
We then talked to him and Haruo Nakajima, the man in the original Godzilla suit, and they asked us to sign the blueprints. Then Akira said he wanted to give us a gift and took out a canvas, then he brought out an ink well and bamboo and began to draw on it. He drew the Japanese symbols of Gojira (Godzilla) and then signed it to us from him. He then did something really cool, instead of only his signature, he brought out his stamp with his family crest, the way they do official documents since signatures can be forged, and placed it on the canvas. He wanted a couple more pictures with us and Haruo with the sculpture and his gift to us.
Then he gave us his card and his email address and asked for ours. He proceeded to talk to us about an event in Japan that he wants us to come to and visit and build this!
Well, it took us about 4 months of planning to put everything together for this project, but I must say it was a success! One of the best days ever!
If you see our sculpture going around Facebook and Twitter the next few days, please tag us in it!
If you interested, here is a video we made telling of some of the behind the scenes of what goes into a Super Sculpture like this, it also shows some Easter Eggs in our past Super Sculptures.
Here is also a gallery of some pictures of the Godzilla build, including Haruo Nakajima, the man who wore the Godzilla suit in the 1954 movie and 13 Godzilla movies in front of it.
Evans Events Gallery
Party Cups
Party Cups
An Exclusive Unique Option for Your Next Event!
Whether the event is at your clubhouse in Naples, your home in Bonita, or a Park in Fort Myers, we know everyone wants that something special to make their event or party stand out. This is an option that we have only offered exclusively when people have asked for it in the past and have seen
it at our events, but we are proud to now offer as a full option to your next event.
More Than Party Favors
Many times the party favors are a challenge for the host to put together with so much else going on with the event from room rentals to decorations to food to entertainment. These Balloon Creation Party Cups are party favors that are something unique that people have never seen before and create a truly impressive gift to take home.
Designed for Your Event
The balloon artistry on top is really what makes these unique as each one is designed for the theme of your event. We have done everything from Elsa and Anna for Frozen Parties to Spiderman and Batman for Superhero Birthday Parties to CEo Caricatures and company logos for corporate events and trade shows. When you have a table of these as your guests arrive, it really builds excitement, brings the theme together, and they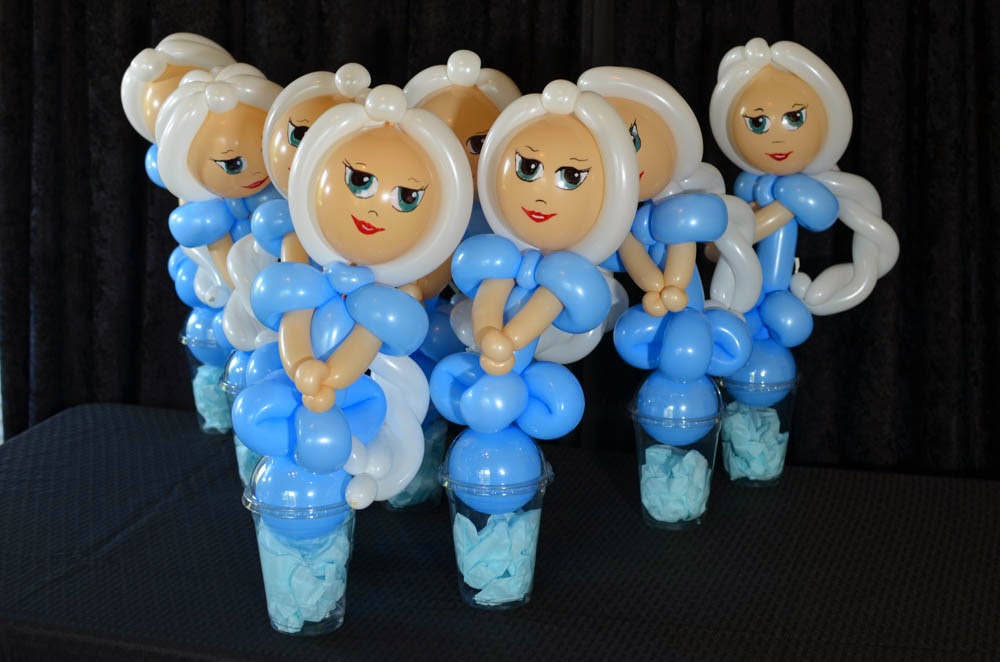 leave with a fantastic keepsake.
Inside These Cups
We put several items inside the cup, such as a care sheet for the balloon creation on top, but there is room for anything else you want to put inside from candy to party favors.
Please email us or fill out a form for your next event. Let us know the theme you are thinking about and we would love to help make your next event unique! Unfortunately, unless we are in for an event, these Balloon Artistry Party Cups are only available in Naples, Fort Myers, Bonita, and elsewhere in Lee and Collier County.
---
Evans Events for Family Celebrations
When planning a family celebration, whether its a birthday party or other family get together, there is so much to worry about from the cake to the decorations to the invitations and the list goes on and on. Let the entertainment be one thing that you can let go and rest assured it is in great hands.
Although we perform at corporate events, cruise ships, and theaters across the counry, we are proud to still be a part of many private family celebrations. From birthday parties to family get-togethers, our elite family celebration entertainment has been called "The Best Entertainment in Southwest Florida" by Fox's Morning Blend.
One of our most popular offerings is our award-winning balloon artistry and face painting. These are not the normal twist a dog kind, but eye-popping animals, hats, and other wearables! Our face painting can be themed to match your event or the menu can be left wide open. It's also not only for children as these are the same creations and designs we perform at trade shows and corporate events across the country. After all, adults are just big kids that owe money! We try to offer the best entertainment possible, which means that the complete experience can be taken care of in one place to save you money and to help you breathe easier and focus on relaxing and enjoying the day.
Many people ask about our family comedy magic show for family celebrations. This is based on our availability as well as the venue as the show requires quite a bit more space.
As always, our main event is the 30 – 40 minute hilarious, award-winning comedy magic show. This highly interactive show includes comedy, magic, and several surprises that will be enjoyed by the entire family. This isn't simply a children's show, but a show to be enjoyed by everyone, from 2 to 122! (If you happen to be past 122, please contact Guiness) See our video on the front page for quotes and clips from recent shows!
Be sure to call for our available dates, as our availability is limited.
"Impossibly Funny" Comedy Magic Show
Joey Evans' unique brand of comedy and magic has been a favorite at resorts, country clubs, cruise ships across not only Naples, Fort Myers, Bonita, and all over Florida, but across the United States and as far away as Australia. His fast paced, hilarious style of audience interactive magic is the perfect addition to any country club or corporate calendar.  Joey Evans' has written comedy for numerous television shows such as "The Tonight Show", so you can have confidence in knowing that his stage show was called "Impossibly Funny" for a reason.  His glowing reviews of his show have come from everyone from Country Clubs in Naples to Florida to Cruise Ships in the Carribean to Corporate events
in Kansas to separate performances for two United States Presidents.
Whether your event is for 50 or 5000, we have the experience and knowledge to make sure it's a success.  When booking you receive all the promotional artwork you need from posters to mailings.  All you need to do is provide an audience!  So you don't have to take our word for it, we have not only included several glowing recommendations, but also video clips so you can see for yourself.  When booking in Naples, Fort Myers, Bonita, or the surrounding areas, you pay no travel and get a discounted rate as we love working close to home.  Contact us and tell us about your event, we are sure we have a show that can fit into your schedule and your budget.  You can always check out our site at www.Evansmagic.com for more details and videos.  Now some fun clips!  First our promotional video..
Also, so you can get more of a feel of the energy of a show, here is a live clip from a show in Kansas City.  This was actually filmed by an audience member at the company, but I thought it would be the best way to get the energy of the show!
Close-up Magic
Looking for something special for your next banquet?  Whether you are in Naples, Fort Myers, Bonita Springs, in Florida or across the country, you can put award-winning close-up magic on your menu and give your guests an evening they will always remember.  Strolling magic can be performed table to table with no special lighting or sound.  Just add an audience and stir gently. 
Strolling magic has the same hilarity and astonishment, but on a personal one on one level and it can be performed everywhere from a banquet hall to a residence.  Joey Evans has performed his unique style of close-up magic for everyone from presidents to celebrities, such as Matt Damon, to audiences not only in the Naples, Fort Myers, and Bonita area, but on cruise ships and corporate functions across the globe and at the World Famous Magic Castle in Hollywood, California.  Prepare to laugh and be amazed!
You can go to www.Evansmagic.com for videos and more information.
Super Sculptures
What are Super Sculptures?
While obviously not for every event, these are massive works of balloon artistry htat have been featured at churches, corporations, cruise ships, colleges, and various places across the country and abroad. They can range anywhere from 500 balloons to our recent rollercoaster that clocked in at over 3000 balloons! From the life size biplane with a 28 foot wingspan to the roller coaster with over 100 feet of track, each one of these are designed from the ground up to be completely unique and one of a kind.
These are for large scale events when you seriously need that WOW factor or want to bring in some publicity. They can take anywhere from 20 hours to over 100 hours to create. Our recent World Record breaking Rollercoaster even has a virtual ride through! Take a look below and see some of our recent Super Sculptures!
For more information or if you have an event that you have the space and think one of these would be fantastic, please give us a call!